Hola a todos soy Alicia!

Bueno, primero decir que a partir de ahora Merkades y yo (Alicia) vamos a escribir juntas este blog, en español, en inglés (chapucero) y un poco de japonés...
El tema del blog será el
lolita
, las tendencias, lo nuevo de las marcas, con una pizca de moda
de alta costura y lo que hacemos nosotras en general .
Por mi parte intentaré traducir al inglés lo mejor que pueda (que es bastante cutre ya os lo digo :P) y probablemente no todas las entradas, pero espero que os vayáis animando a escribir y esperamos vuestras opiniones...
Decir que las dos somos madrileñas, trabajamos, Merk está estudiando japonés y nos pasamos casi todos los meses en la más absoluta ruina, Merkades es Libra y yo soy Escorpio y aceptamos donaciones y regalos en cualquier época del año

Y nada más, disfrutar del blog tanto como nosotras!!!!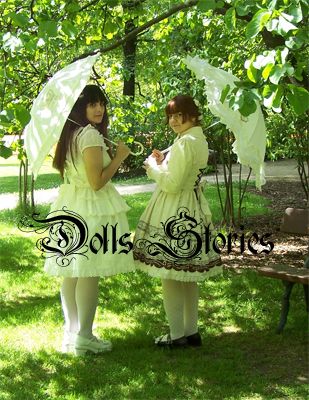 Hi alls, Im Alicia!

Well, the first to say its about ours, Merkades and me (Alicia), we are starting to write this blog together, in spanish, english (sux) and a bit of japanese...

The main theme of this blog will be the Lolita, tendencies, the lolita's brands news with a bit of haute couture and what we do everydays...

I will try to translate to english the best i can (and my english is very bad...:P) and probably i couldnt translate all the entries, but i hope you will write in it and we hope your opinions...

I want say that we are from Madrid (Spain), we have a work, Merk is studing japanese and we are poors almost each month, Merkades is Libra and me Scorpion and we acepting donations and presents in any date in year ;P

And nothing more to say, just, Enjoy the blog like we will do!!!!