Bueno pues por fin Miriam (Momo) me ha pasado las fotos, que decir, su cámara mola y su retoque fotografico más <3
Finally, Miriam (Momo) sent me the pics and what to say...her camera rox <3

Por fin conseguimos ir a la exposición
, yo tenia mucha morriña de Prado, asique tras ver la de La Bella durmiente, estuvimos dando una vuelta recordando a Velazquez, Ribera, Rubens y demás..y cogí alguna idea para un peinado lolita ajajaja! si es que no hay nada como recurrir a los clásicos :P
And, we went to the exhibition Aleluya!, i wanted look some old pics after the 'Sleeping Beauty' colection, so we walked for remember Velazquez, Ribera, Rubens and others, and i liked an old hairstyle in a pic for use in lolita bwahaha, i will do it in my next coordinate :P

Estuve buscando para comprarme un camafeo, hace poco se llevaban mucho y podías verlos en todas partes..bueno pues nada ni rastro, alguien podría regalarme uno?

I have looking for buy a cameo but i didnt found so ..maybe somebody can give me 1 for free?
Asíque nada, estuvimos comprando los tés que habéis visto en las otras entradas y luego ya nos reunimos con las niñas y fuimos al Starbucks que llevabamos todo el día andando para acá y para allá :P
By the way, we bought the teas (you looked the pics in the other blog's entries) and after that we met the rest of lolitas in the Starbucks :P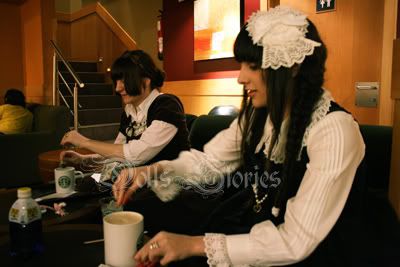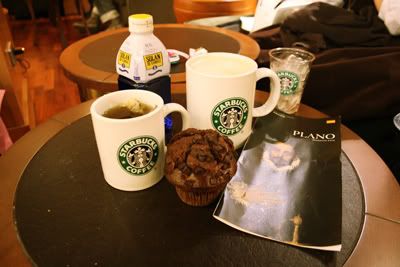 Aquí lo que pedimos y el Plano del Museo :P
Muffin, green tea and coffee with milk again with the museum's plane :P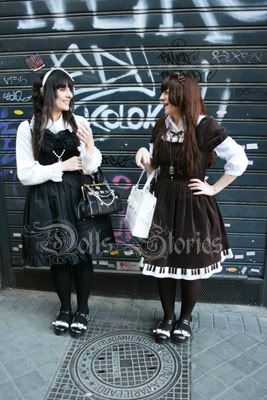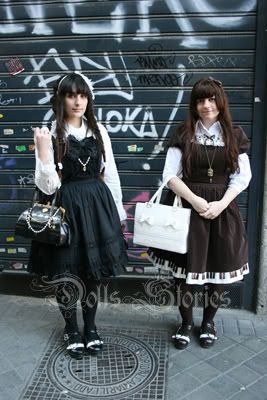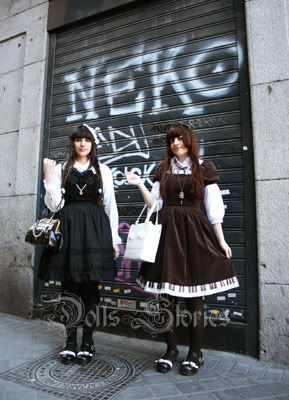 Merkades:

Blouse, JSK, Shoes, Bag: BTSSB
Beside: AaTP
Socks: El corte inglés

Me:

Blouse: Blanco
OP: Innocent World
Shoes, Bag: BTSSB
Pendant: tienda de complementos CC La Gavia
Hairdress: Claire's
Socks: Calzedonia
En serio, me encanta como han quedado las fotos, y eso que el blog no permite ponerlas muy grandes...porque se deforma, pero las colgará Miriam en Liw, son una maravilla.
Seriously, i love the pics, althought in blog i cant put them in big size, but Miriam will put them in LIW forum


Estuvimos hablando un montón, la verdad es que echo de menos hacer picnics con todas, espero que dentro de poco podamos hacer uno

We talked a lot, i really miss the picnics with alls lolitas in Madrid, i hope do it again with better weather...
foto random, mi cena hoy!
random pic, my dinner today!
Alicia